Resources for Helping Others
During Their Doctor Appointment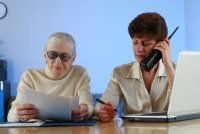 These resources for helping are provided to make your job easier. The advice offered on the How to Prepare for Your Doctor Appointment pages may also give you a better idea of how to guide your friend or family member in getting into a mind-set for a physician appointment.


www.uncommongoods.com : Medical organizer. A 50-sheet pad for appointment notes, quick-reference emergency information, business card holder and sticky tabs for organization, a booklet with medical contacts, patient and family histories and drug tracker, plus nine divider section tabs with a storage pocket and to-do lists for $20.

http://www.toledobar.org/files/public/HIPAA_form.pdf : Provides a generic release of medical information form which is compliant with HIPAA regulations.

http://www.caringinfo.org/stateaddownload : Provides state-specific Advanced Directives forms.

This page provides tips to help a senior prepare for a doctor appointment, including getting ready for the first appointment.
A Parish Nurse (a nursing specialty) gives you information on making the most of a doctors visit, with some feedback that she has received for doctors, also.
A doctor writes about how to sabotage a doctor appointment.
Being an empowered patient by having help.

You will notice that these resources for helping others show that, above all, you are an important part of someone's doctor appointment; although the phrase "three's a crowd" is true in some cases, it couldn't be further from the truth when you are there to help.
---
Return to Helping a Friend or Family Member